Cervical Decompression Therapy
Cervical Decompression Therapy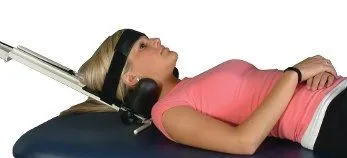 If you have been diagnosed with a spine condition in your neck (cervical spine) that causes nerve compression, such as a herniated disc or bulging disc, you may benefit from cervical decompression therapy.
The purpose of cervical decompression therapy is to release pressure on the nerve root in the spinal canal that has been pinched due to your spine condition and is now causing you chronic pain and other uncomfortable symptoms. Symptoms of neural compression include pain, numbness, and sensory deterioration that can stay localized in the neck or radiate through the shoulder, arms and hands.
What Causes Cervical Compression?
The spine is composed of a complex system of vertebrea, disc, joints, and nerves. As we age, the natural degeneration of the spine can lead to the development of certain spine conditions, such as bulging disc or herniated disc. When these conditions occur, the disc can rupture into the spinal canal, causing the spinal nerve to be "pinched"
Similar degenerative spine conditions, such as bone spurs, can develop in the joint spaces, which also cause neural compression. Cervical decompression, therefore, is designed to decompress the nerve root by either removing the component of the spine that is out of alignment and impacting the nerve root or by reducing the pressure on the spine so the component of the spine can move back into alignment and release the nerve root.
Nonoperative Treatment Methods for Cervical Spinal Nerve Compression:
There are a variety of nonoperative methods that can achieve cervical decompression, such as Chiropractic manipulation, yoga, massage, physical therapy, analgesics and non steroidal inflammatory medication.
To remove the compression nonsurgically, rather than just treating the symptoms, there is a technique called nonsurgical spinal decompression that uses a motorized traction device to "pull" displaced disc material back into its proper position. This traction pad is designed to lengthen and stretch the spine, allowing the pressure on the spine to reduce and the bulging or damaged disc to move back into place between the vertebrae.
Typically, a Chiropractor performs a cervical decompression.
What is Lumbar Spinal Decompression Therapy?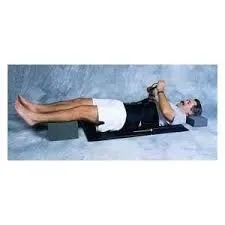 Spinal decompression is a non surgical treatment option for people experiencing mild to moderate back pain. This back pain can be caused by a degenerative disc disease such as a bulging disc that is placing pressure on a nearby nerve root.
This type of therapy is used to realign the components of the spine in order to relieve pressure on a pinched nerve that is causing chronic pain and symptoms. By using traction, spinal decompression therapy increases circulation to the damaged disc, allowing it to begin the natural healing process. This may not only relieve disc pressure, but also reduce compression of nearby spinal nerve roots.
If you are suffering from chronic low back pain from a damaged disc, you should consult with the chiropractor about decompression therapy and other conservative treatments. This therapy could reduce your pain and prevent you from requiring spine surgery to correct your condition.
Who is NOT a Candidate for Spinal Decompression Therapy?
The following factors may eliminate spinal decompression therapy as a treatment option for certain individuals.
Advanced age

Obesity

Pregnancy

Osteoporosis

Advanced disc degeneration

Other musculoskeletal conditions or injuries
You should always consult the Chiropractor before beginning or changing a treatment for chronic back pain. The Chiropractor can help you find the best treatment option for your needs based on the cause of your pain and medical history.
Other Conservative Spine Treatments:
If you are exploring your options for nonsurgical neck or back pain treatments, you may want to discuss the option of spinal decompression with the Chiropractor. Other treatment include Chiropractic Manipulations, acupressure, Yoga, low-impact exercises, hot/cold compressed, transcutaneous nerve stimulation, massage, acupuncture, behavior miodification and/or medication